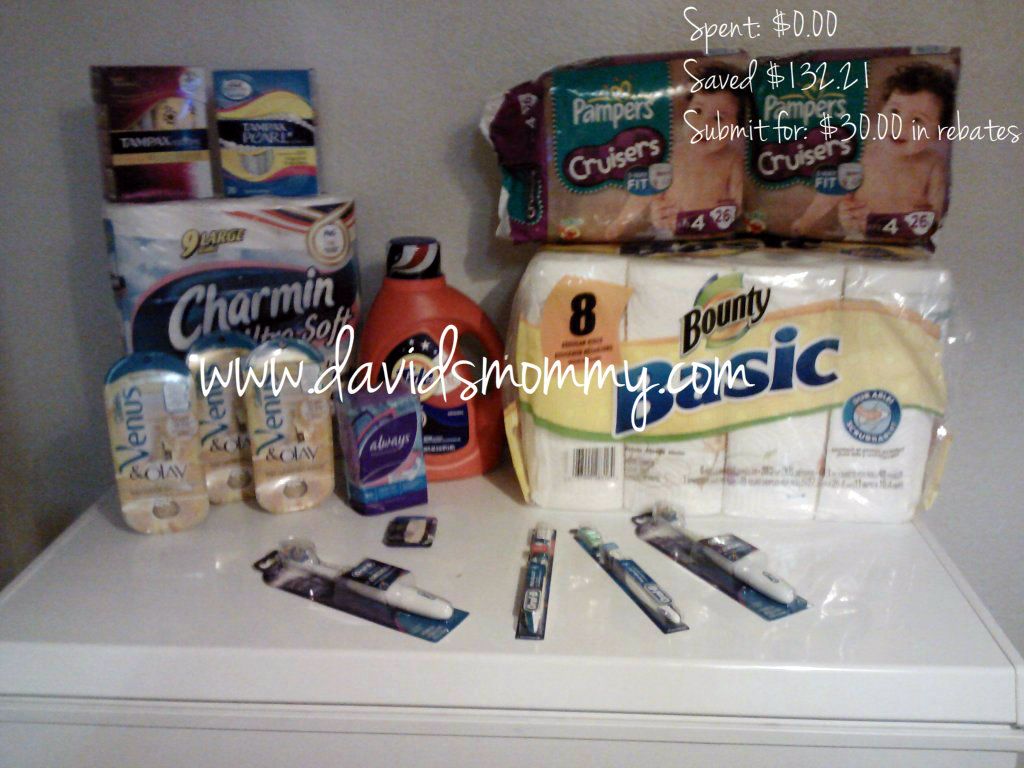 Ok so lets break this one down… (based off of an old trip from over the summer!)
I did all of this at CVS with just 3 transactions…
Transaction 1
(2) Oral-B spin brushes  $5.99 each used $5.00 off of 2 from Charmin package  2/$1.00 any tooth brush from the red machine
(2) Oral-B tooth brushes $2.77 each used  1/$0.75 off from mailer, 1/$0.50 off from mailer 2/$1.00 off any tooth brush from the red machine
(1) Always panty liners $3.49 each used 1/$1.50 off off always liner from mailer
(1) Tampax Pearl  $3.99 each used 1/$2.00 off Tampax pearl (I forget where it came from)
(1) Tampax Radiant $3.99 each used 1/$2.00 off from Tampax radiant package (I previously bought)
(1) Venus Olay  Razor $10.79 each used 1/$2.00 off any Venus from Pampers (last summer)
(1) Cover Girl Eye shadow $3.79 each used 1/$1.00 off any cover girl from Tampax radiant package (I previously bought)
used (2) 4/20 CVS coupons, (I don't use multiples of these anymore) ** always give your CVS coupons first starting with $/$$
Paid $16.00 in ECB and $0.35 on a gift card, paying nothing oop and got back $15.00 in ecb
Transaction 2
(2) Venus Olay Razors $10.79 each  used 2/2.00 off any venus from 5/13/12 P&G Brand Saver
used (1) 4/20 CVS coupon
Paid $13.00 in ECB and $0.63 on a gift card, paying nothing oop got back $10.00 ECB
Transaction 3
(1) Tide $11.99   used 1/$1.00 off of Tide fom 5/13/12 P&G Brand Saver
(2) Pampers 2/$19.00 used 2/$1.50 off of any pampers cruisers or baby dry from coupons.com
(1) Bounty Paper Towels $5.99 used 1/$1.00 off bounty basic from Charmin package
(1) Charmin Free (when spending 30 on participating products) used 1/1.00 off Charmin (this lowered the amount of ECB that I was using and is with in the coupon policy for CVS which can be found here
used (2) 4/20 CVS coupons
Spend $19.75 in ECB and $3.50 on a gift card, paying nothing oop
I will submit for 3 Mail In Rebates each one will give me a $10.00 pre paid Visa card!
*For more Information on Mail In Rebates (MIR) please click here
**My gift card came from a return of a product that was supposed to produce ECB and did not… I have another from a giveaway that I won on another blog … Leaving me with $20.00 in ECB and $10.92 on gift cards.
***Viggle is a great way to earn gift cards for CVS learn more about it here
Here are some of my other couponing trips from the past few weeks!